MobiPast - Best Phone Tracker for Parental Monitoring
Tracking what your kids are doing online is the best way to protect them. MobiPast helps you do that.
Available for: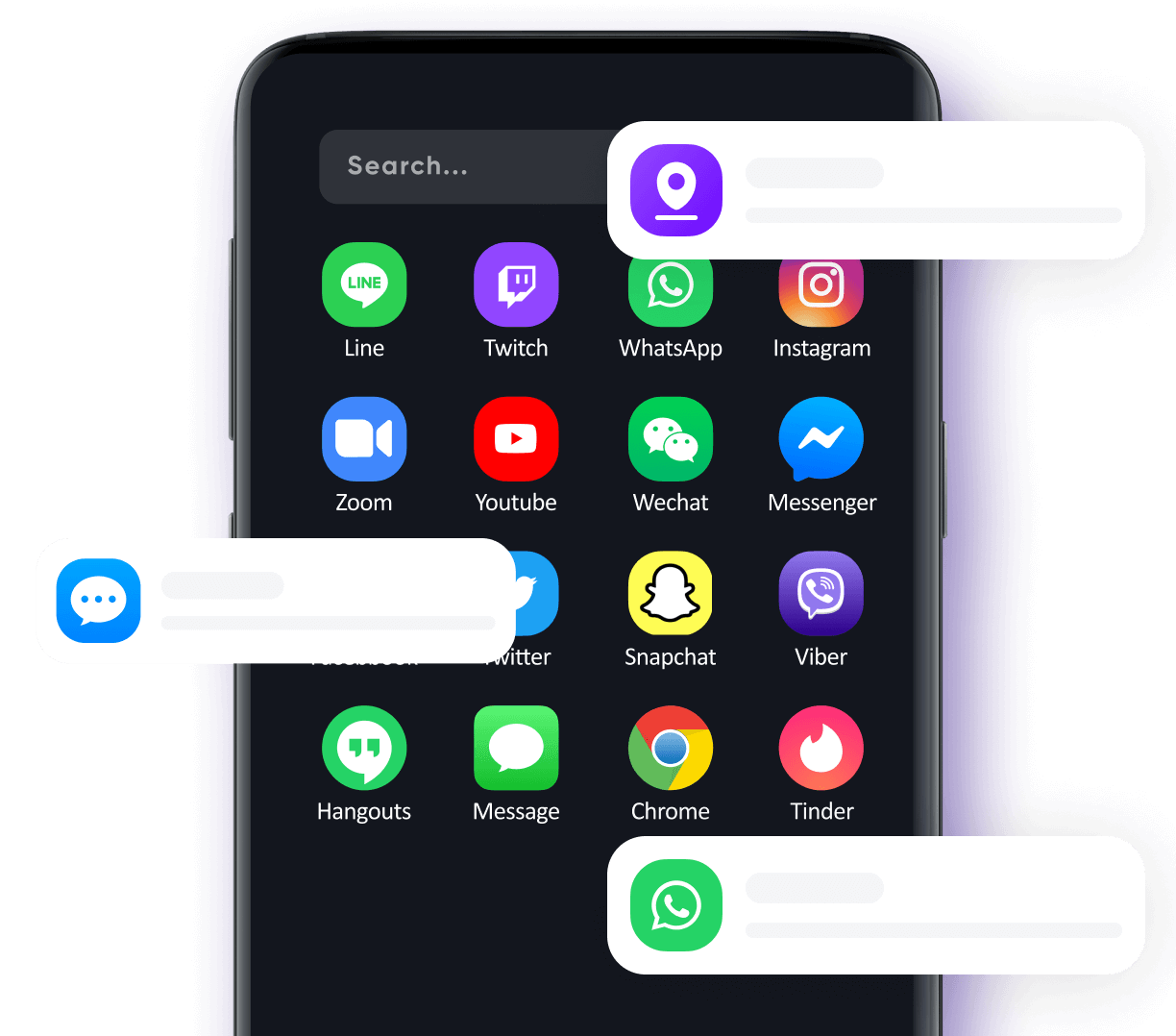 MobiPast Key Features
MobiPast gives you the unique ability to monitor 30+ popular apps and social media platforms.








Text Messages
Track incoming and outgoing messages, including deleted messages. See the timestamp, date, and contact.
Social Apps
Monitor data, including all, sent and received messages via WhatsApp, Instagram, Facebook, and more. You can also see all media files on these social apps.
Location & SIM Card
Get accurate data relating to the location of the user. You can also see their location history and get updates when they leave a certain area.
Calls
Track incoming and outgoing phone calls on the target device. You will also have access to the duration of the call, timestamp, and caller information.
Photos & Videos
See all the media files including photos and videos that may be stored on the target device
Keylogger
Track everything that the device owner types. This includes passwords, PIN numbers, and keystrokes.
Monitor Your Tagert Phone in 3 Simple Steps
Step 1 Register
Just enter your email address and click "Sign Up." We will create a MobiPast account for you and you will be ready to set up the app to start tracking the device.
Step 2 Set up
There are multiple MobiPast plans to choose from. Select the one that suits your needs, depending on the devices you're using and your family's needs.
Step 3 Monitor
Complete your payment to purchase your preferred subscription. Then, simply login to your MobiPast Control Panel to begin monitoring the target device.
Why MobiPast is the Best Phone Tracker
MobiPast is a feature-rich phone monitoring app that makes it very easy to track any device's online activities. It comes highly recommended by millions of users all over the world.
100% Undetectable
MobiPast remains completely hidden on the target device. The App icon is not visible on the home screen.
Support Most Data Types
You can track most types of data on the device, including calls, messages, social media platforms, media files and so much more.
For All Android & iOS Device
It supports all Android devices, running all versions of Android OS. It will also track all iOS devices, running all versions of iOS.
All Data is Encrypted
MobiPast is 100% free of viruses and malware. All data is also encrypted for your safety.
Real-time Updates
To ensure continued efficacy, MobiPast is updated on a regular basis. New features are also introduced during the updates.
98% Customer Satisfaction
This app is used by millions of users around the world. More than 98% of them highly recommend it.
No Rooting & Jailbreak
You don't need to jailbreak or root the target device to track its data.
24/7 Customer Support
Our support team is available 24/7 via email or live chat to help with any issues including installation.
Real Reviews from Satisfied MobiPast Customers
We have been working with clients around the world
Frequently Asked Questios
There are a lot of apps in the market that claim to be able to track data on a target device. The best one should be able to track your device without the device owner finding out and without having to root or jailbreak it. It should also track all data on the device. MobiPast fits this description.
No. MobiPast doesn't require a rooted or jailbroken device to track the data on it. You don't need to alter the makeup of your device in any way; just install MobiPast on the target device and it will do the rest.
Yes. Once it is installed on the target device, MobiPast gives you the option to hide it from navigation. It will not even have an app icon on the home screen.
You can use a tracking or monitoring tool like MobiPast. MobiPast in particular will use the device's GPS to track the target device's movements and even provide you with a location history of the device.
The easiest way to do that is to use a monitoring tool. But keep in mind that some monitoring tools can be detected on the target device. If you want to track a device without them knowing, is to use a monitoring tool that will remain in stealth mode, completely undetected. MobiPast can do that effortlessly.
Free Phone Monitoring Tool. Sign up for Free
Create an account for free